Shop Kids Face Paint and Glitters
Whether you're planning your little one's birthday party or getting them dressed up in an exciting new costume for Halloween, there's nothing better than kids' face painting to get them into character! If you're concerned about the ingredients you're applying to your child's face, our exciting range of natural face paint supplies is specially formulated for youngsters and made from natural ingredients to avoid any chemicals or nasties.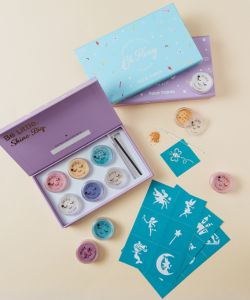 By shopping at Oh Flossy, your child can become whoever they want to be! Whether it's their favourite superhero, fairy princess, scary monster or Christmas-themed character for their school play, there are endless kids' face paint ideas to choose from.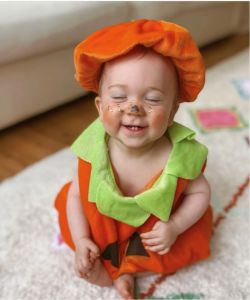 The Oh Flossy kids face paint is gently enough to be used as face and body paint and is easy to apply with the use of our natural, Aloe Vera based primer.
Kids face paint with amazing colour to make your little one smile
From fashionistas to social media influencers, there are so many kids' face paint ideas to explore! Let your child's imagination run free with our incredible selection, making face painting for kids more fun than ever! Our incredible selection includes:
Face paint sets — Discover our natural face paint sets, available in all the pretty colours of the rainbow. Our sets contain face paint, primer, mini brushes and fine line brushes for more delicate details. Our fantastic selection of colours is sure to strike your child's imagination! From the primary colours to pastel colours, there are endless options for designs. Our cosmetic glue is made naturally from Aloe Vera making it easy the face paint to the face and body. Our fine line brushes and face paint applicators, make even the most ultra fine line work easy!

Glitter and accessories — When it comes to face paint, our biodegradable cosmetic glitter is a must-have! Our glitter will add some much-needed sparkle and glam to any look. It's also a great way to add dimension to your child's face painting designs, whether they're a princess waving a magic wand or a prancing reindeer. Opt for our glitter and accessories set with a cosmetic bag, primer, glitter, and an adorable fluffy headband to make kids' face painting a breeze! Our cosmetic grade glitter comes in different shapes and sizes from fine glitter to chunky glitter adding great dimension to any face paint and glitter session with your little one.
What if I can't face paint! It's ok - we've got you.
Adhesive face paint and makeup stencils — Is face painting not your strong point? We've got you, Mumma! If you need some extra guidance besides YouTube tutorials or makeup books, you can't go wrong with our reusable adhesive kids' face paint and stencils, containing 40 magical fun designs. From butterflies and princesses to sports and dinosaurs, our kids' face paint and stencils have something for every child to express themselves! 

Blend in some glitter - Add some cosmetic glue over the stencil and sprinkle on some glitter to unleash your creativity and add sparkle to the face or body. Essentially this is a great way to create glitter tattoos for your child. If you make a mistake, no problem, simply sponge or wipe off the glitter or face paint using a sponge or Oh Flossy's Makeup Remover Puff.

Use the latex sponges to blend and add shades of colours. Simple mix the face paint or cosmetic glitter with our cosmetic grade primer and away you go.

Who says face paint and glitter is just for the face and body? Add some face paint or glitter to your little ones hair for the ultimate colourful dress up experience.
Face paint that is safe for kids and hassle-free for parents
No matter what look you're going for, we want our products to provide all the fun and none of the stress. Whether you're going for makeup stencils or want to channel your inner makeup artist with face paint, we've made all our products with lots of love, so they're 100% kid-safe! 
Your little one deserves nothing but the best, and that includes our face paint and glitter set! We don't make our products with any icky stuff — we want face painting to be as fuss-free as possible, especially for those with sensitive skin!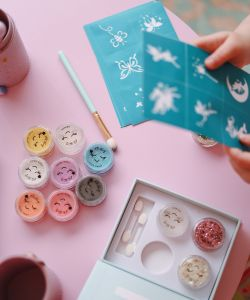 What's more, we formulated our Oh Flossy products to be easily washed off with water, making it easy for parents everywhere. Once you and your little one are done making a face painting masterpiece, this easy-to-clean formula also means your kids can practice washing up on their own — with you watching over them, of course!
Glitter and twinkle with face paint that makes Mother Nature happy
We can't forget about the most important mum out there — Mother Nature! Aside from making products that will make you and your child happy, we want to make sure we're keeping the Earth happy too.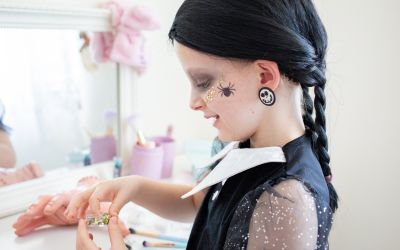 Because of that, we absolutely do not test our products on animals. That's a huge no-no for us, since we want kids to learn how to take care of our planet and all the animals who live here with us. 
We want you to know exactly what we use for our face paint and glitter set, so we've made our ingredient list available on our website. We use all-natural ingredients because we think Mother Nature provides all the things we need to make fun and sparkly cosmetics for little ones.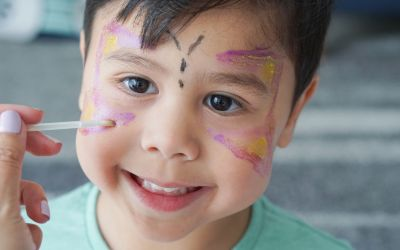 Our biodegradable cosmetic glitter is make from plants, not plastic and is certified OK Biodegradable WATER. This means guaranteed biodegradation in a natural environment. It is an all natural product, made from Eucalyptus which means it softer than plastic glitter.
We've also made sure our packaging is recyclable and earth-friendly, so that once you're done with your face paint and glitter set, you can easily dispose of it. How easy is that?
Face paint and glitter for all occasions
You child will be the life of the party at the next dress up party event with Oh Flossy face paint and glitter. Available in individual colours of as sets including the Oh Flossy Face Paint Set, Oh Flossy Magic Garden Face Paint Set and the Oh Flossy Sparkly Glitter Set, they won't go wrong with the next party event.
With all colour of the rainbow available, there are face paint and glitter options for all of the big events such as Halloween, Christmas, Easter among many others. Pair this with the Oh Flossy Reusable Stencils and you are onto a winner!
Shimmer and shine with kids' face paint from Oh Flossy 
Face painting with kids is an incredible bonding experience to create lasting memories and adorable photos you'll always treasure. Oh Flossy offers same-day dispatch before 12 pm, free shipping Australia-wide for purchases over $50, and a 30-day money-back guarantee. Don't hesitate to get in touch with us if you have any queries. We'll be more than happy to assist.