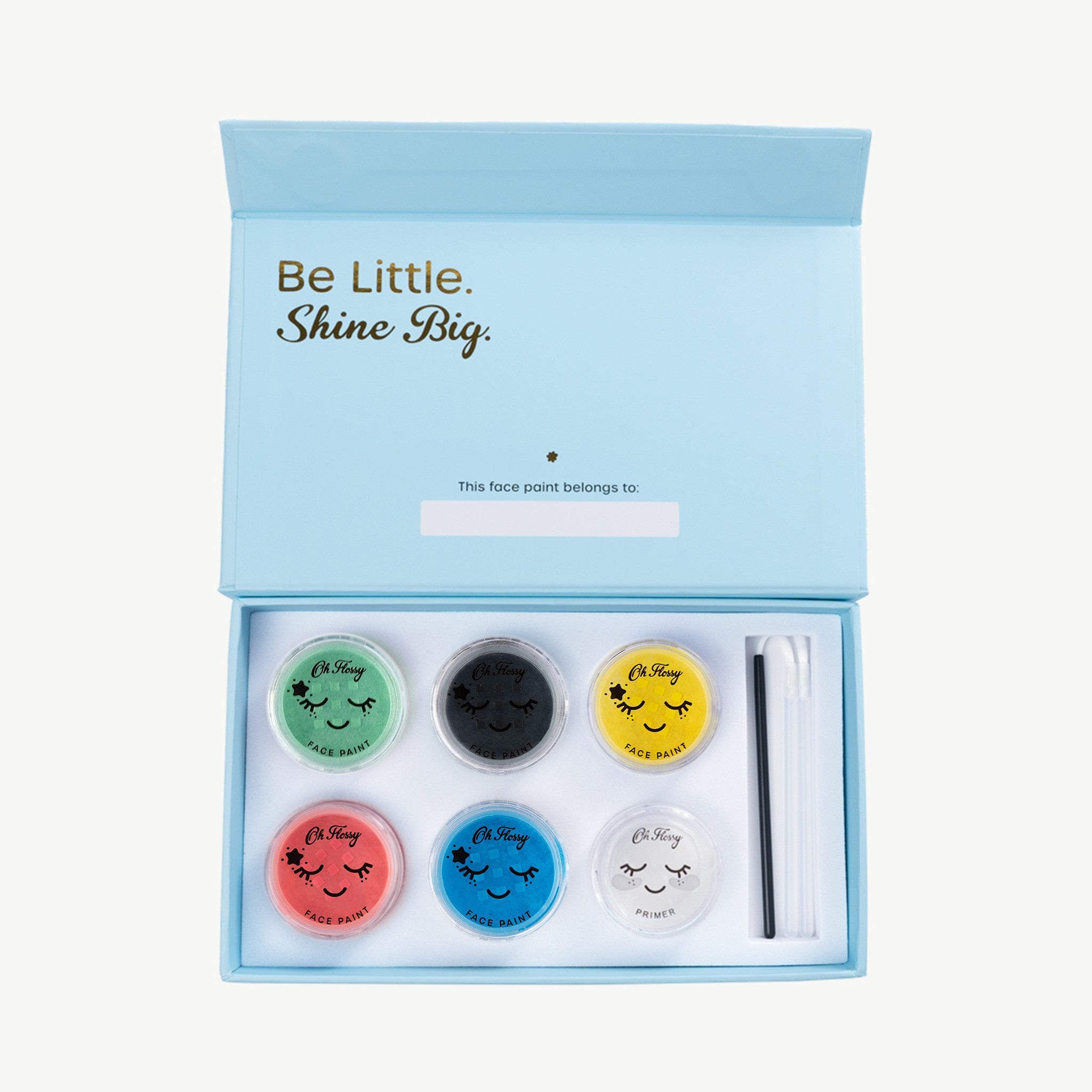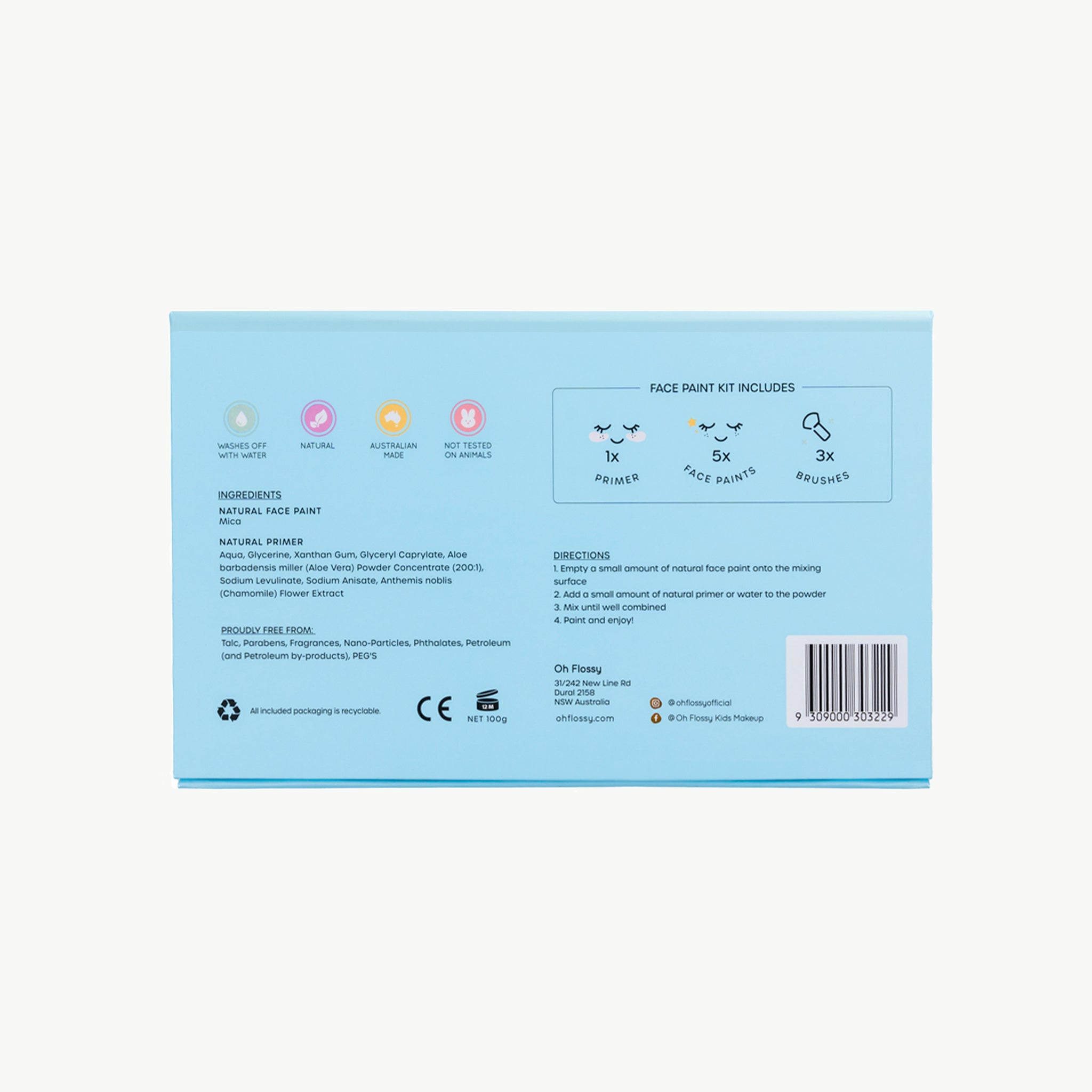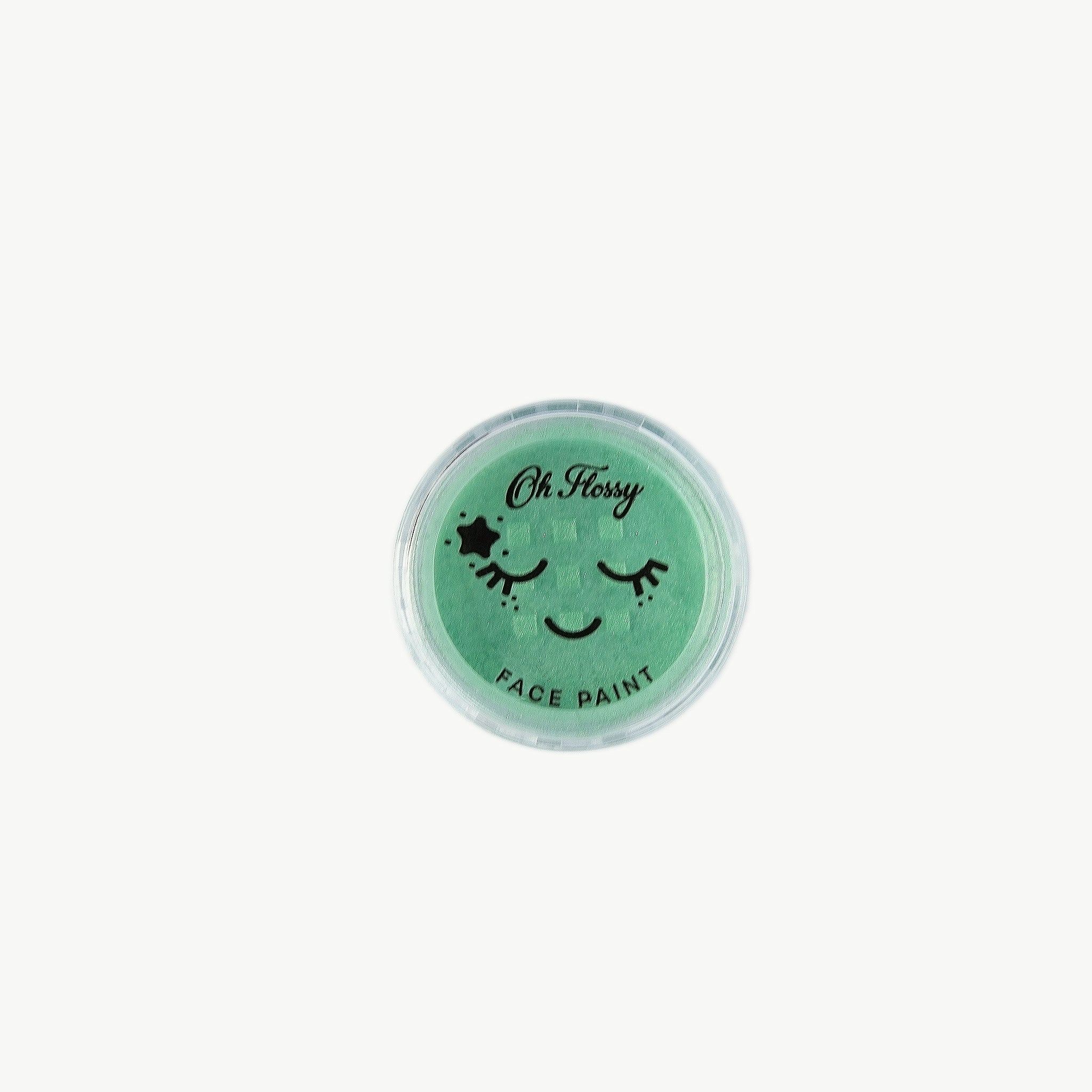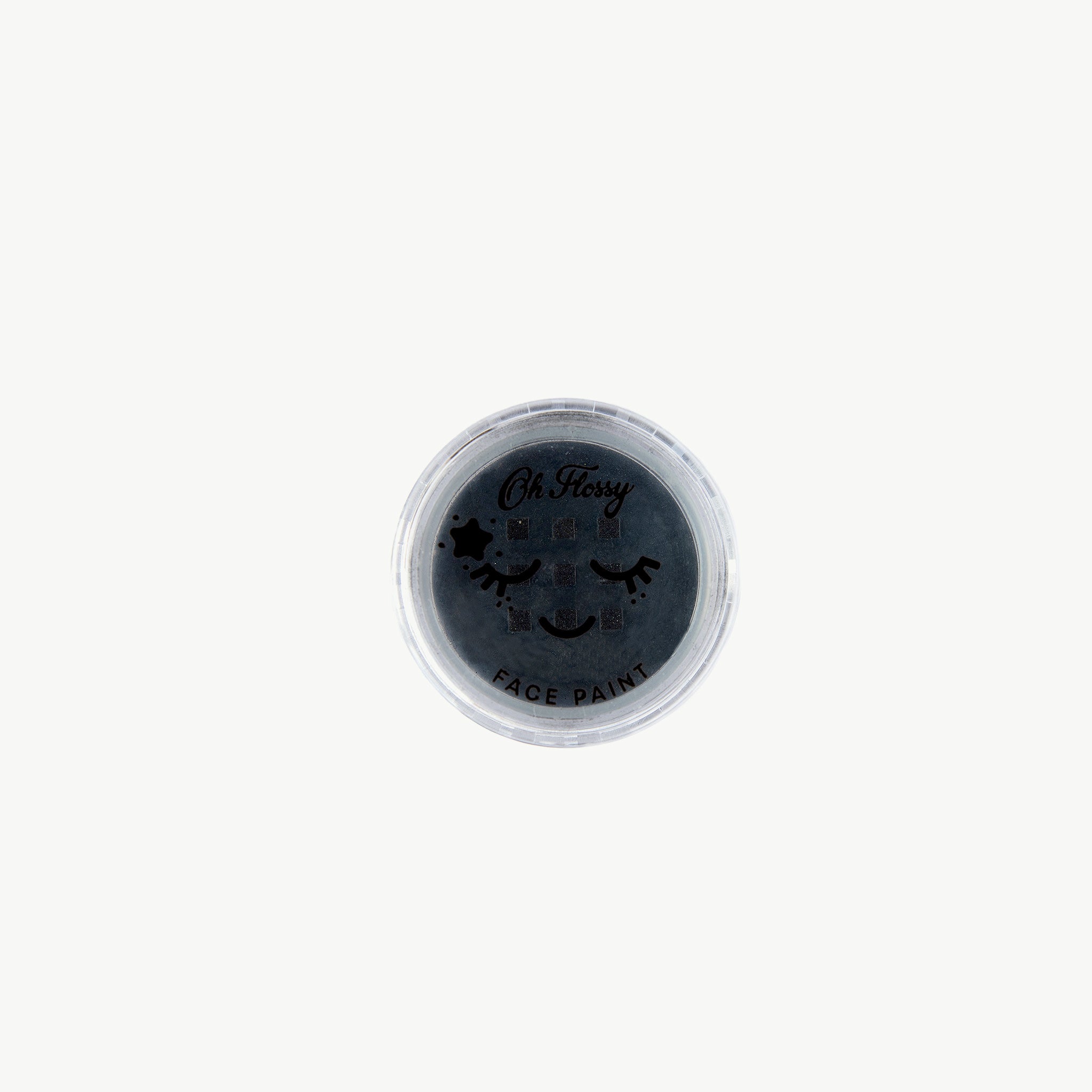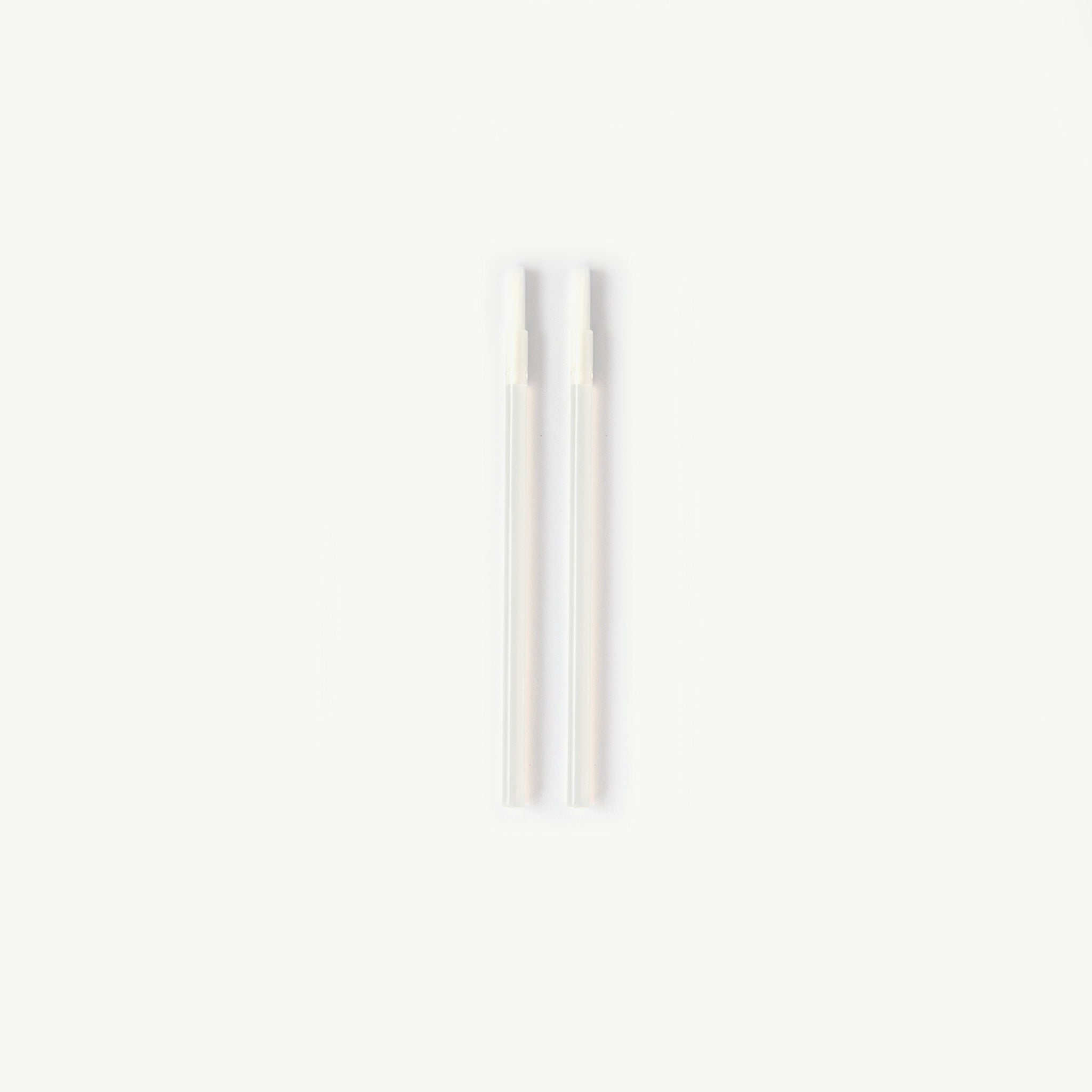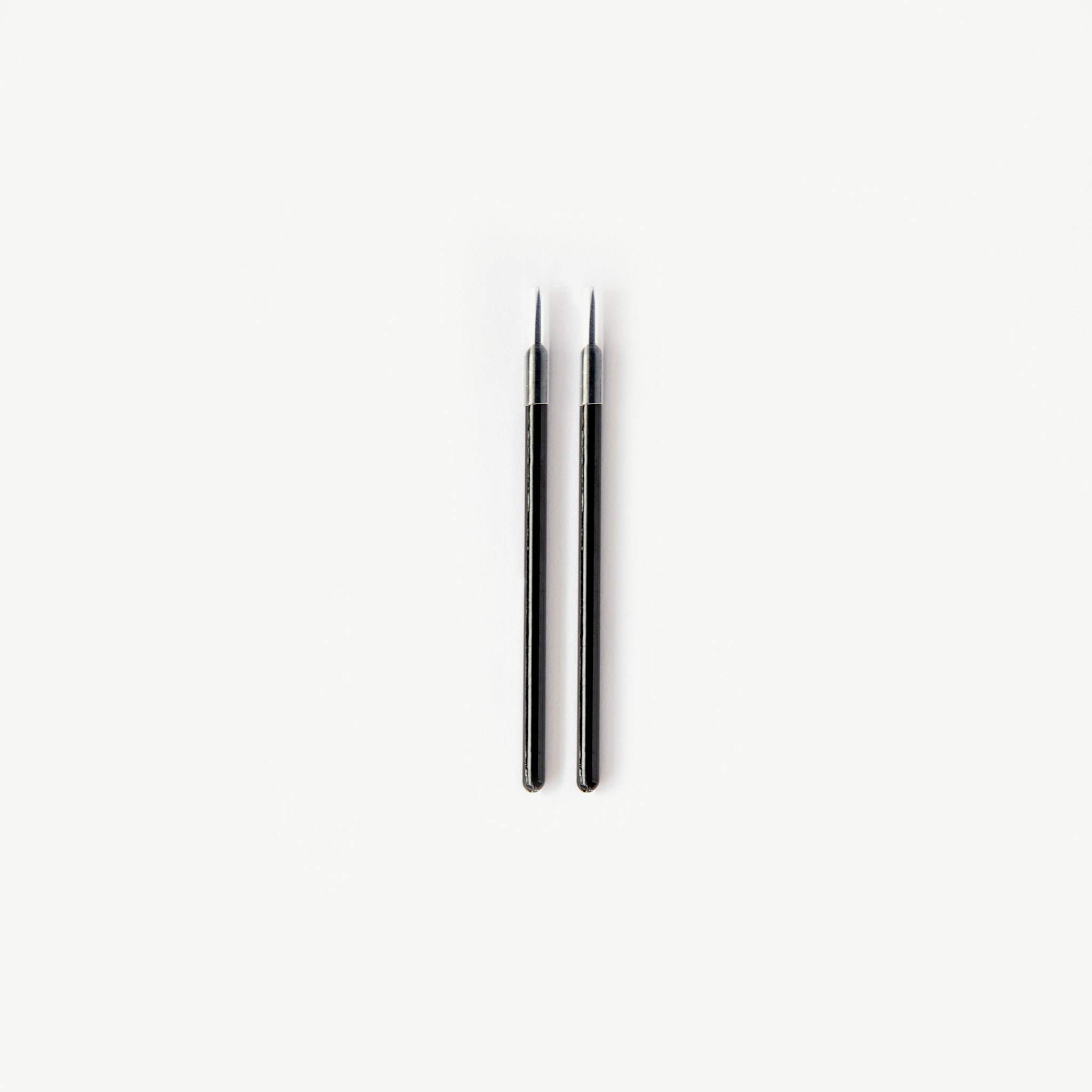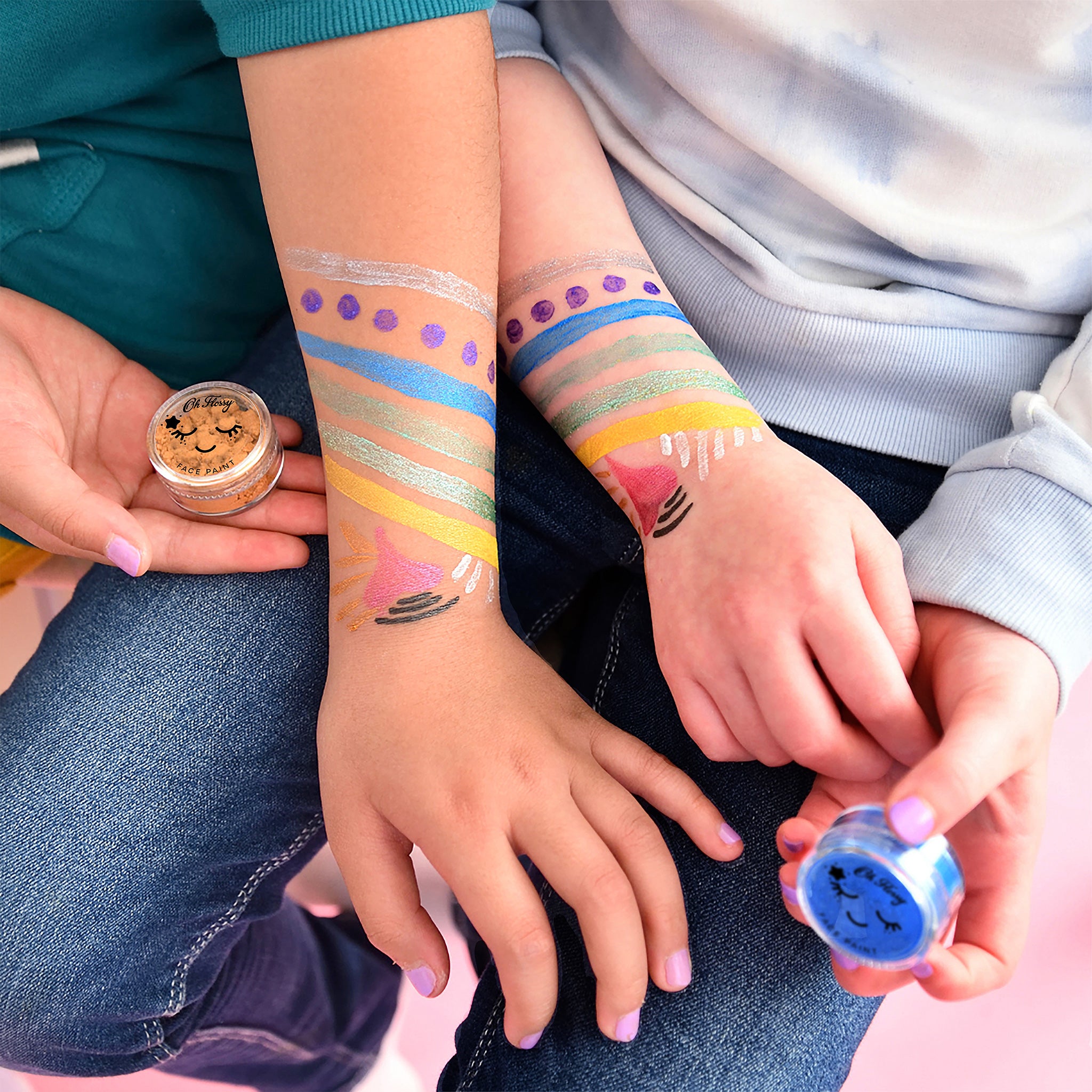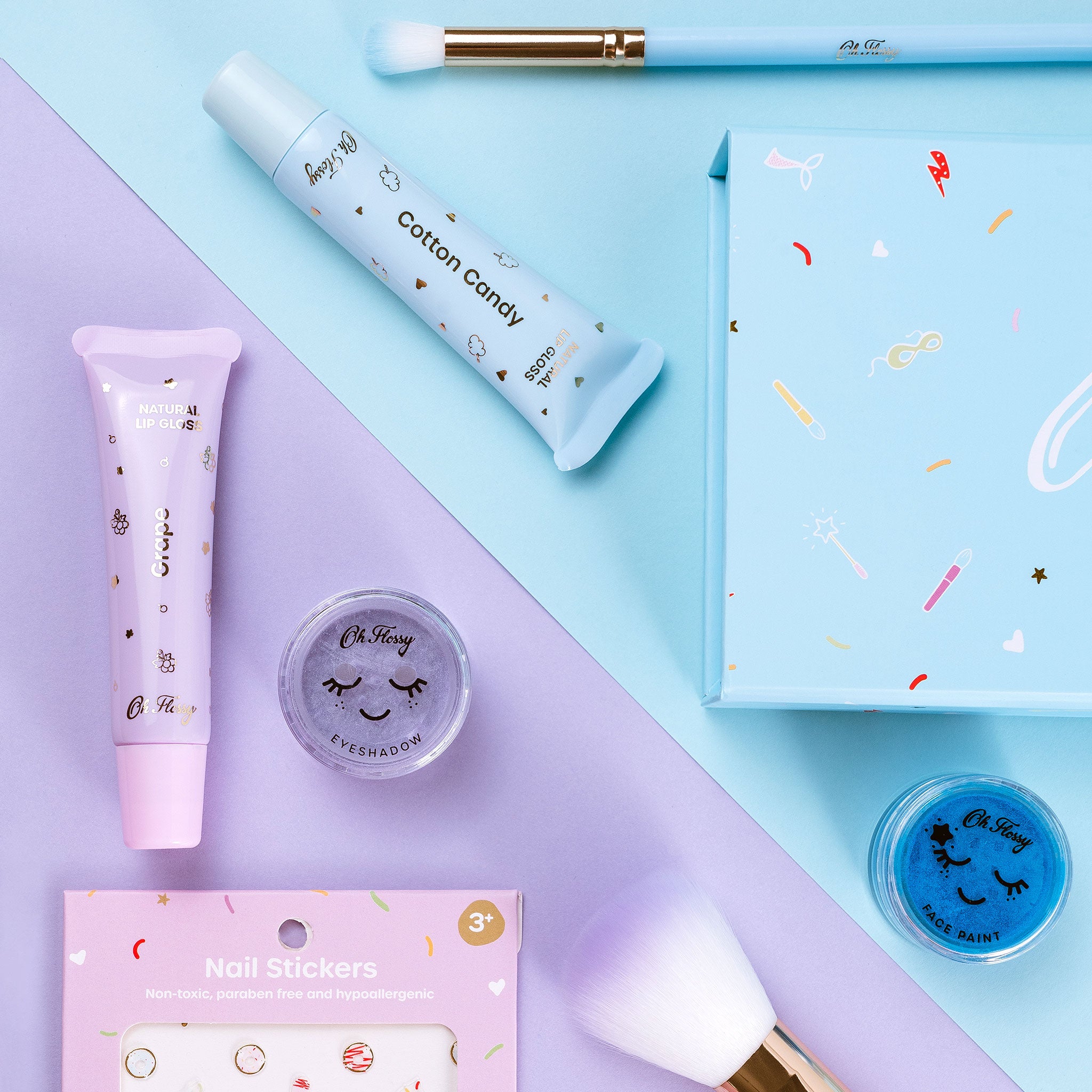 This Natural Face Paint Set for children is full of bold vibrant colours which will create endless fun and creative experiences. The range contains no fillers and no preservatives - just pure colour which is perfect for kids' sensitive skin.
Use with water or our Natural Glue Primer (included) for safe, all day natural face paint that won't crack or peel.  A little goes a long way so don't underestimate this small pot of fun!
INCLUDES:
5 Natural Face Paint for kids


Green Face Paint

Black 

Face Paint



Yellow 

Face Paint



Red 

Face Paint



Blue 

Face Paint




1 Natural Primer

2 Mini Brushes

1 Fine Line Brush
 Always use adult supervision. Small parts.

The products have been formulated by a world-leading Cosmetic Chemist without the use of chemicals or preservatives.  The formula is non-toxic and hypoallergenic, and the ingredients are 100% natural & vegan so won't irritate sensitive skin.  Our face paint and primer is made right here in Australia too!  
Read more about our product safety.
The set is packaged in a luxurious magnetic closing box making it perfect as a special gift!
The fun box was designed by local Western Australian Designer Rosa Ronco and was created to inspire kids at playtime. The gorgeous graphics includes characters and dress up inspiration for your child to inspire them at playtime.  
For children who aren't quite reading yet, our lid designs include cute face icons so kids can recognise what each product is used for, giving them independence during their play experience.
1. Grab a plate or palette to mix your colours
2. Mix a small amount of powdered colour with Oh Flossy Primer to make a paste. If you don't have primer, you can use water or moisturiser instead.
3. Use the mini brushes to apply.
All Oh Flossy makeup is proudly free from Preservatives, parabens, fragrances, nano-particles, phthalates, petroleum (and petroleum by-products), PEG's and talc.
Find out more about our ingredients.
Ages 3+ Always use adult supervision. May contain small parts. Choking hazard.
Mica
May Contain +/- CI77288, CI77007, CI77491, CI77742, CI77891, Tin Oxide.
Aloe Barbadensis Leaf Juice,  Glycerin, Xanthan Gum, Chamomilla Recutita Flower Extract, Sodium Levulinate, Levulinic Acid, P anisic Acid, Glyceryl Caprylate, Citric Acid, Sodium Hydroxide
So much fun!
My daughter & I had so much fun mixing the colours with the primer and choosing a stencil to use! End result was great and we can't wait to use again.
Thanks so much for the review Nadine. So happy to hear you and your daughter had a lot of fun with the face paint colours! Vanessa. x
Great gift
I've bought a couple of these for my daughters friends for their birthday along with the stencil sets. Now I'm about to buy for my daughter, she has a few of the make up products but will add the face paint set to her collection. I love introducing friends to these products, in hopes of eventually eliminating the cheap toxic products from the go-to list of gifts that have routinely been received previously.
Thank you for your lovely review Heidi, we really appreciate. So happy to hear that your daughter enjoys the Oh Flossy range and that you are able to find non-toxic gifts for her and her friends. Vanessa. x
Better than I imagined!
I expected the face paint to be like the make up products. It is still the natural, child friendly goodness we love BUT it comes out in a vibrant colour that dries and doesn't crack or easily wipe off…It's more lasting than any face paint we've previously experienced. No sealant needed! Just let it dry then enjoy your day with extra pizzaz! Best part- it washes off with water!
Thank you so much for the lovely review Kristy, we really appreciate it. So happy to hear you've enjoyed using the face paint and that it comes off easily with water. Vanessa. x
So much fun face painting!!
Joshua absolutely LOVED the Flossy Face Paint set! He got creative with his sisters and loved trying out all the shapes on his face. Really fun and easy to use and remove.
Thank you for the 5-star review Penny, we really appreciate it. So happy to hear Joshua loved the face paint set! Vanessa. x
Face paint
My children love their Oh Flossy Face paint. The pots are easy to use and a little bit goes a long way. The colours are lovely and sparkly. When combined with the stencils my children have hours of fun and imaginative play. Love our Oh Flossy products!