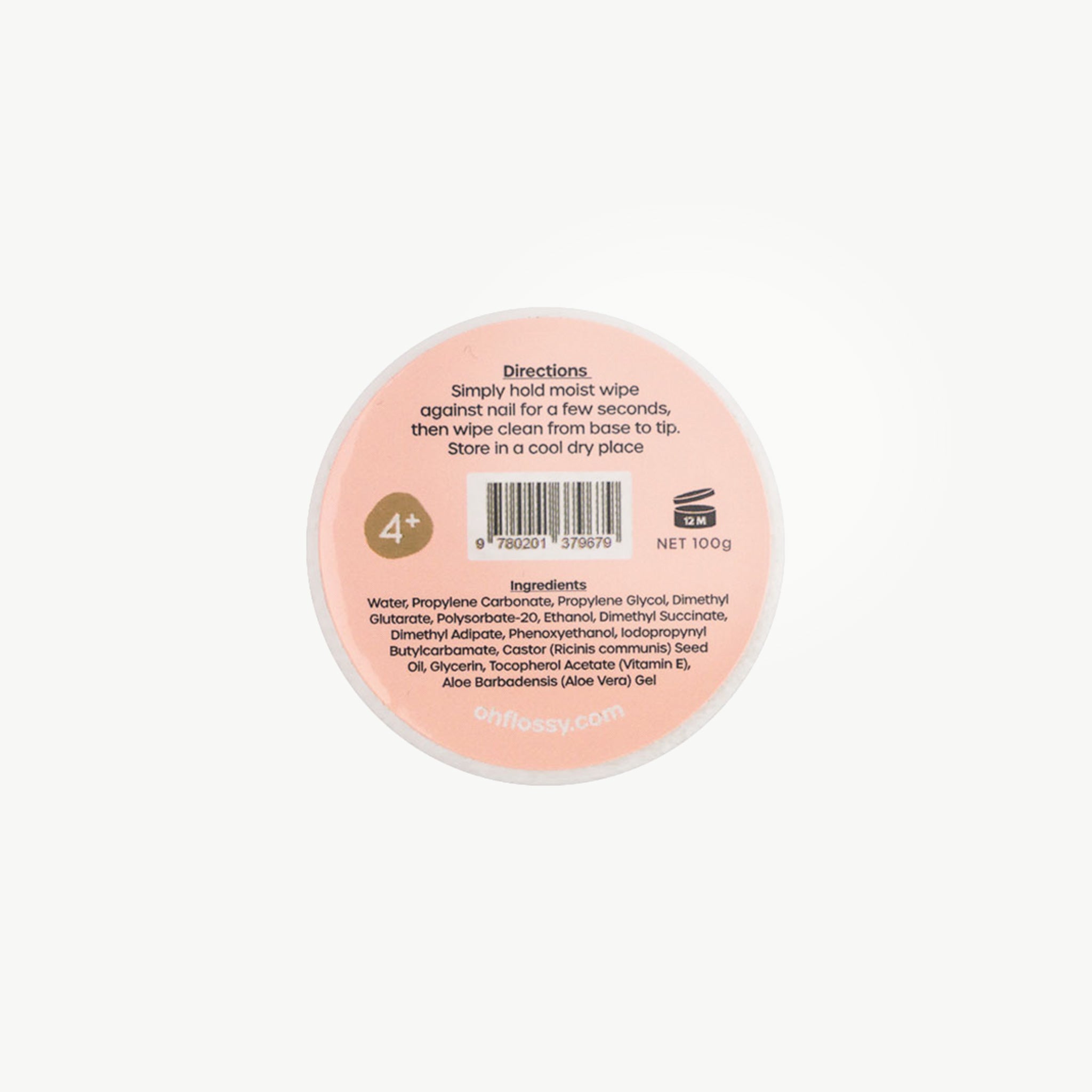 Oh Flossy Water-Based Nail Polish Remover Wipes
Our patented water-based nail polish remover wipes are safe and gently removes nail colour, while hydrating nails and cuticles. Our nail polish remover wipes comes in a pack of 40 wipes and removes your Oh Flossy Nail Polish with ease.  
Our vegan formula is acetone & fragrance free and contains Vitamin E, Castor Oil & Aloe Vera for hydration, its non-flammable & is made in Australia!
Read more about our product safety.
These beautifully designed wipes will match with your Nail Polish Set and the packaging is recyclable.
Pair with our super fun Nail Stickers for an extra special treat for your little one!
Simply hold moist wipe against nail for a few seconds, then wipe clean from base to tip.
Proudly free from: Acetone, fragrance, preservatives, parabens, fragrance, nano-particles, phthalates, petroleum (and petroleum by-products), PEG's and talc.
Find out more about our ingredients.
Ages 3+ Always use adult supervision. May contain small parts. Choking hazard.
Water, Propylene Carbonate, Propylene Glycol, Dimethyl Glutarate, Polysorbate-20, Ethanol, Dimethyl Succinate, Dimethyl Adipate, Phenoxyethanol, Iodopropynyl Butylcarbamate, Castor (Ricinis communis) Seed Oil, Glycerin, Tocopherol Acetate (Vitamin E), Aloe Barbadensis (Aloe Vera) Gel
Oh Flossy Nail Polish & Remover Wipes
My daughter and I love the Oh Flossy nail polish & wipes. The nail polish drys quick and is so easy to remove with the wipes. No nasty chemicals or smells. Love the color range as there is so many options 😊👍
Thank you Neofita. So happy to hear you and your daughter love the nail polish and wipes. Stay tuned for more new colours coming in 2023 too. :) Thanks again! Vanessa x.
My granddaughter loves using her nail polish remover wipes, she has to apply pressure for it to work nicely
Thank you for taking the time to review the products Gina, we really appreciate it. We hope your granddaughter continues to get enjoyment from her Oh Flossy products. Vanessa x.