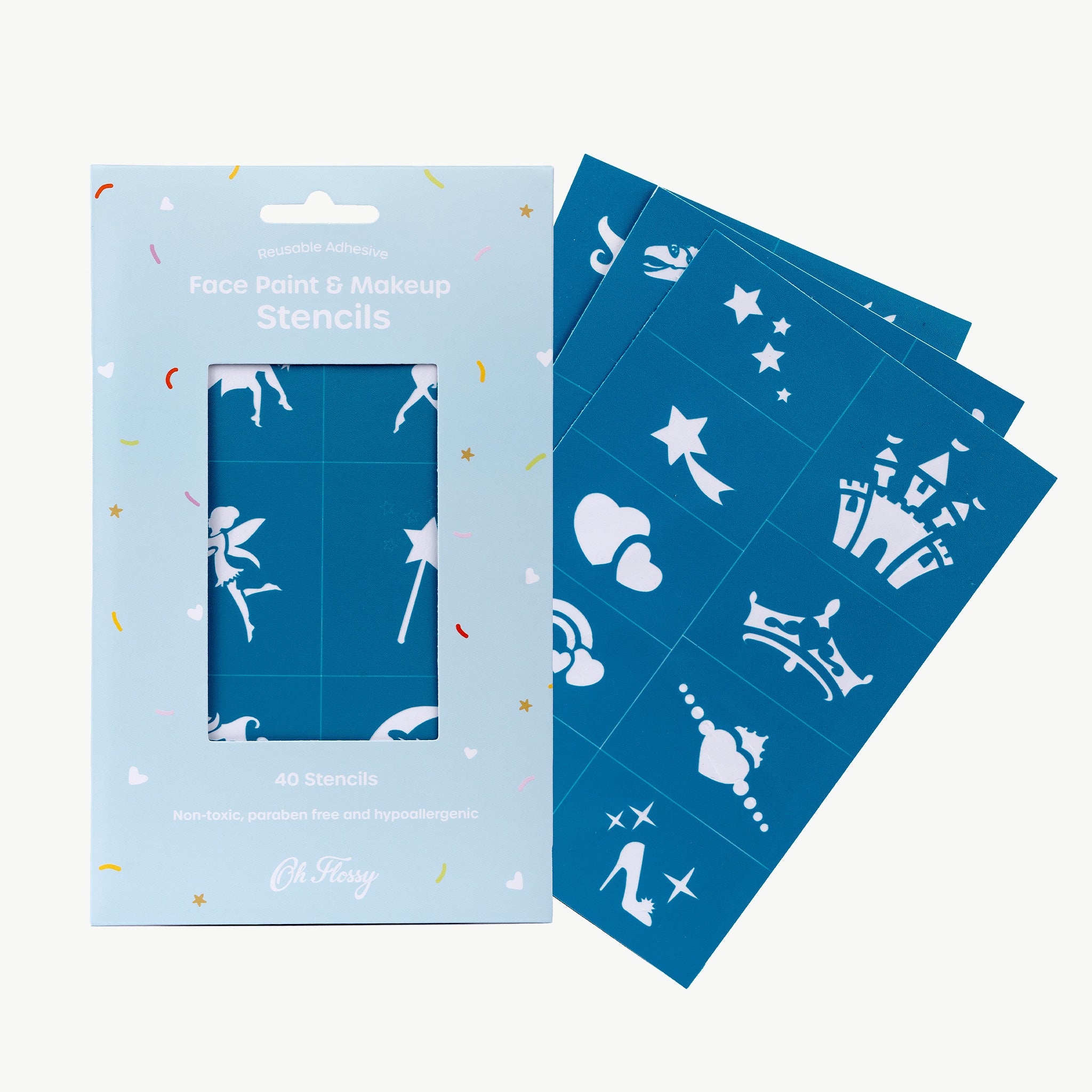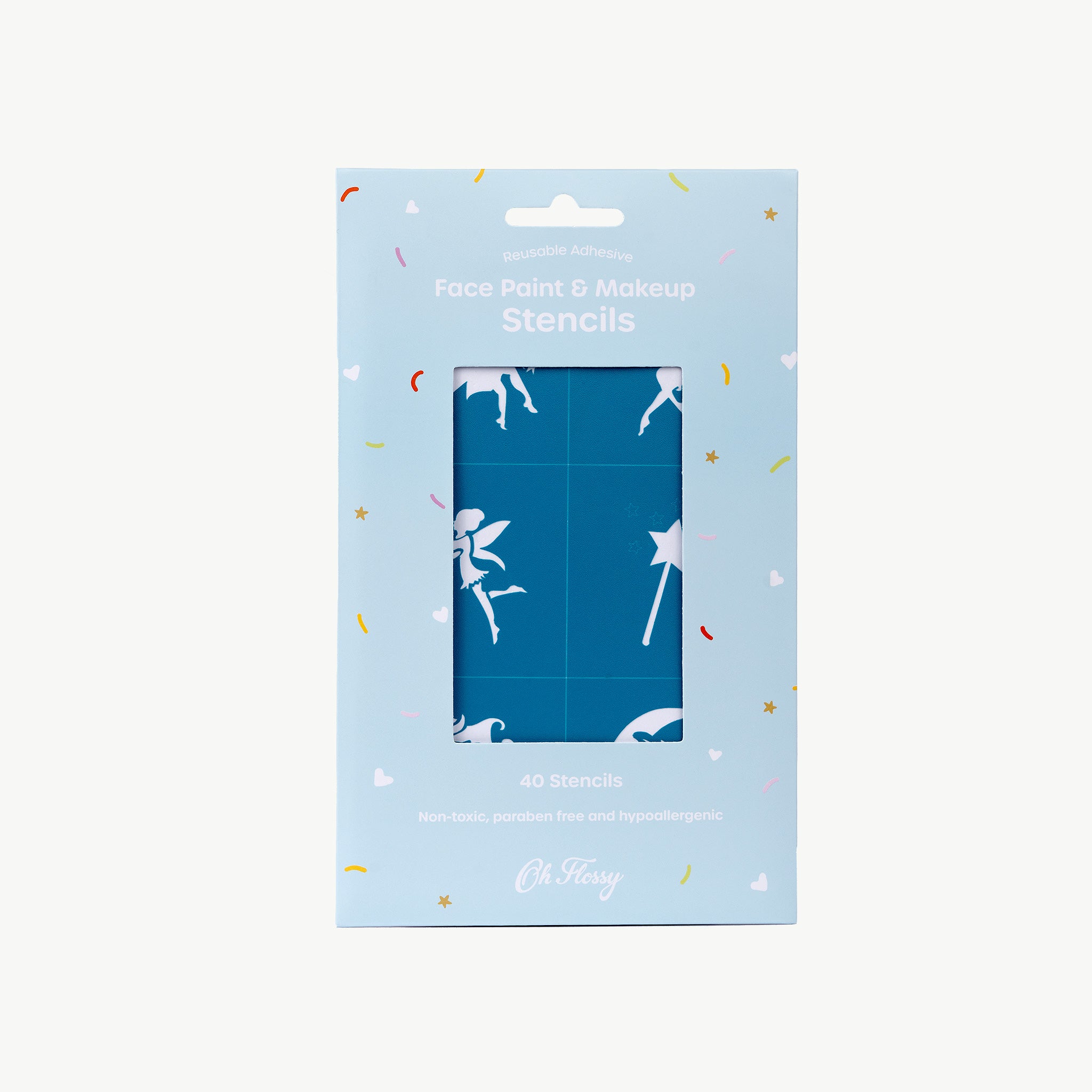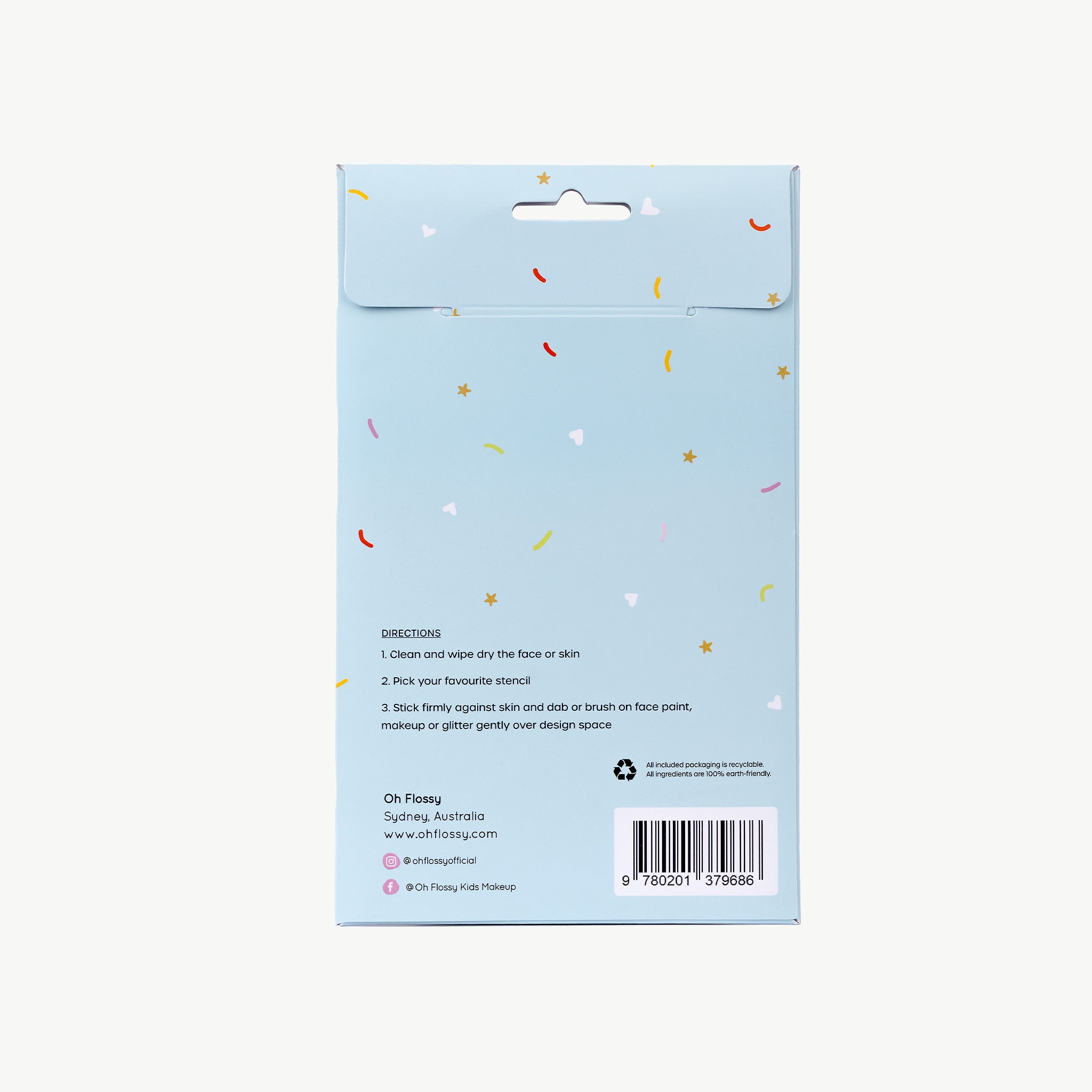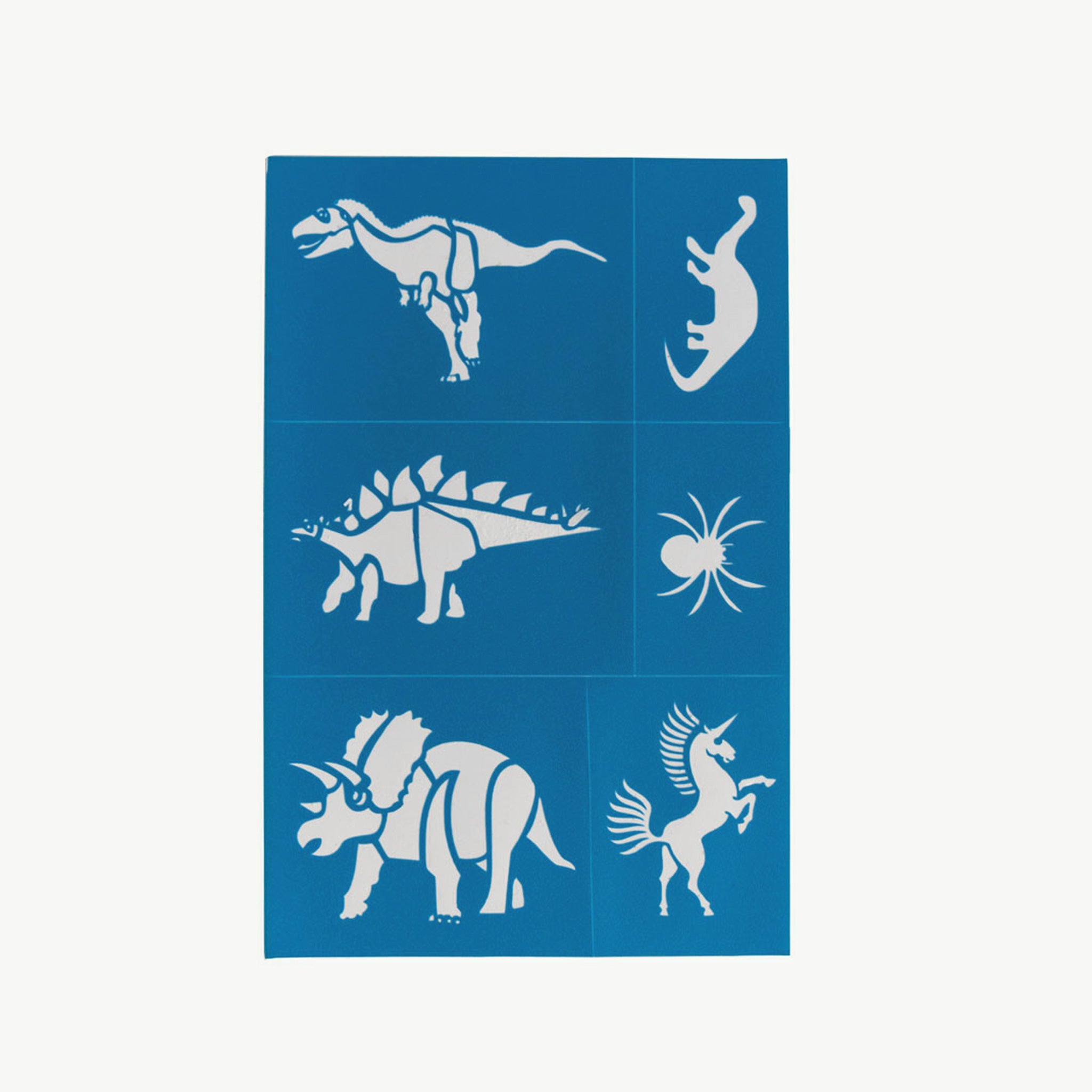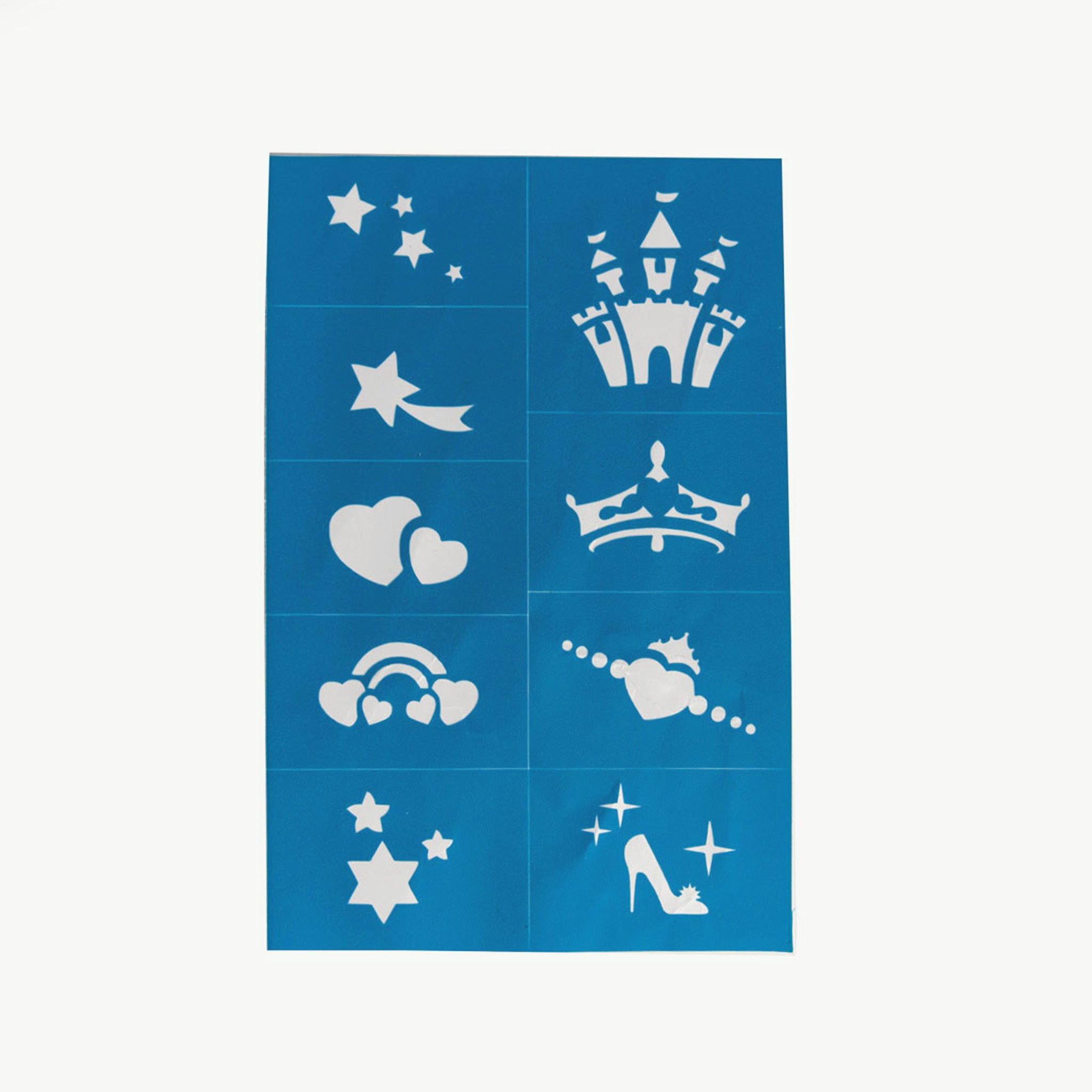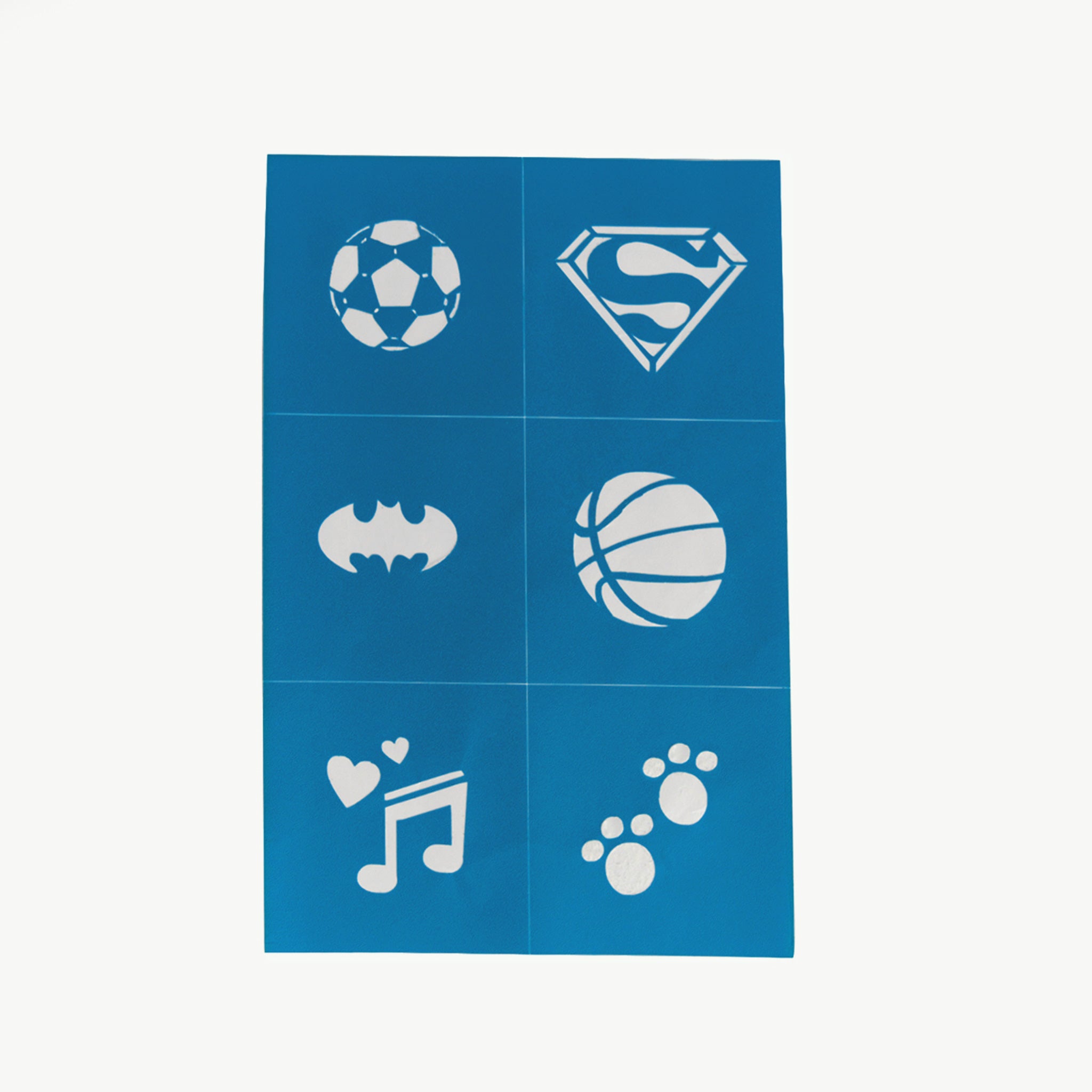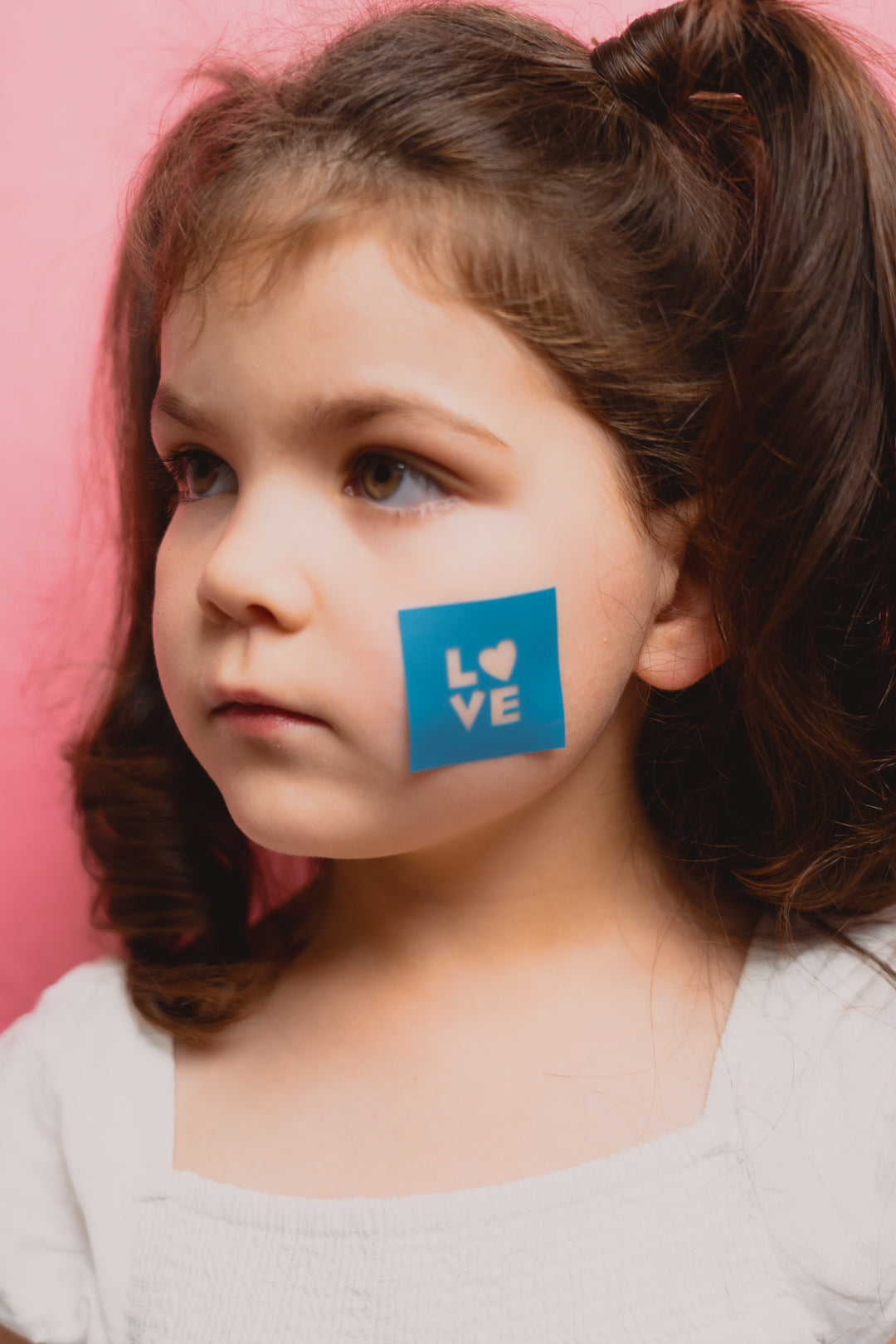 Oh Flossy Reusable Adhesive Face Paint & Makeup Stencils
Our non-toxic, reusable adhesive kids Face Paint & Makeup Stencils are a must have for playtime fun!  The set contains six (6) sheets with a selection of 40 magical, fun and ornate designs including butterflies, princesses, dinosaurs, flowers, sports, fairies and more! Perfect for children's role play!  
Each stencil is reusable and can be used time and time again - just wash with water after use. 

Now everyone can create amazing face paint designs - even if painting is not your strong point! We've got you mumma!
HOW TO USE:  
1. Clean & wipe dry the face or skin

2. Pick your favourite stencil
3. Stick firmly against skin & dab or brush on face paint, makeup or glitter over the design space.
Our accessories are all designed to be great companions to our Makeup Sets, Glitter Set & Face Paint Sets. We are all about the details when designing, & all of our products to work well together so that you can bundle things together to make the perfect gift or just to make playtime more fun!
Ages 3+ Always use adult supervision. May contain small parts. Choking hazard.
Amazing!
We had a little bump with receiving this product, where a product was missing and 1 was a little damaged in the post. The team was amazing and very quickly rectified the situation and sent out the missing and the damaged product, plus are thank you gift. It arrived quickly and the face paint is amazing! My 3 boys loved it, as did my 13yo niece. Would happily recommend them and their products. Fantastic customer service and an awesome product. I've also been considering sneaking the face paint to use as a sneaky eye liner as the colours are so beautiful and pigmented.
Thanks for the review Jane. So happy that we were able to help rectify this for you and that your boys and niece are enjoying their Oh Flossy face paint. Definitely sneak some for yourself as an eyeliner. :) Thanks again! Vanessa x
Fantastic pressie
A wonderful pressie for our grandchildren. The stencils are fantastic and a great range of colours!
Thank you for your review Peter, we really appreciate you taking the time. So glad to hear your grandchildren enjoyed the stencils! Vanessa. x
Beautiful products
I have bought many things from Oh Flossy, absolutely gorgeous products that my granddaughters love and cherish. We love supporting Australian made products and yours are natural and high quality for the girl's sensitive skin. Always excited to receive in mail as the packaging is lovely. Thankyou We will continue to support.
Thank you so much for your lovely review Nadean. We're so happy to hear your grand daughers love their Oh Flossy goodies. Thank you for being a supporter of Aussie Made products too! Vanessa. x
Makeup kit
I bought a few things from Oh Flossy, including the stencil kit. The quality is so great and the kids love playing with it. Customer service is second to none, so much so that when I was missing a piece in my order they immediately sent a replacement with a little gift!
Thanks again, will be re-purchasing!
Thank you for the lovely review Rachel, we always appreciate the feedback. So glad to hear your kids are enjoying the Oh Flossy products including the stencil kit! Hope you see you again. Vanessa. x
Face paint stencils
These stencils are amazing! Leaves a clear distinct line after applying the face paint with a sponge. Peeled off easy. We love the stencil designs too. 5/5 from us!
Thank you Sheridan for the 5-star review, we really appreciate it. So happy to hear the stencils were easy to use and you love the designs - we spent a long time deciding which ones to design for this set so this is great to hear. Thanks again. Vanessa. x