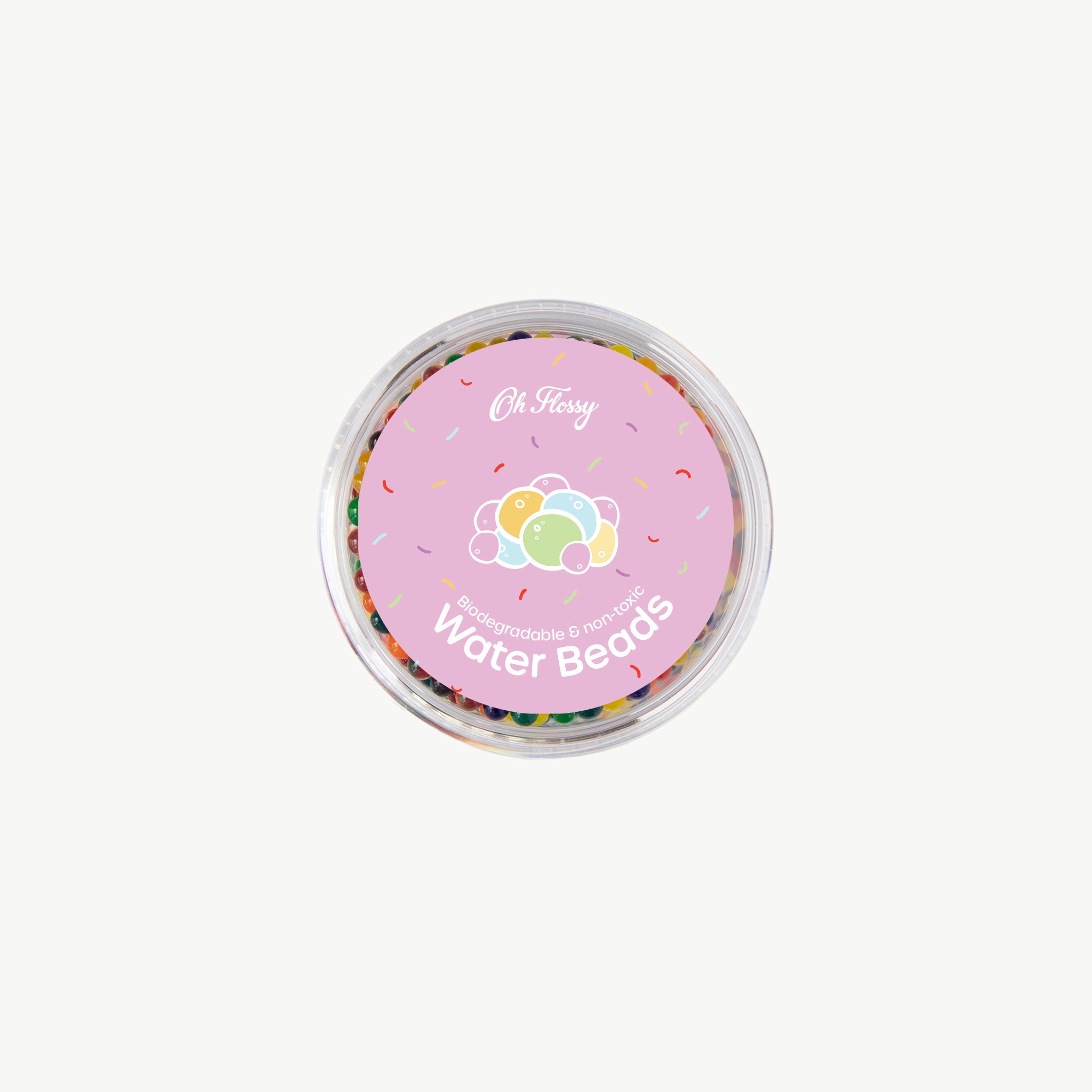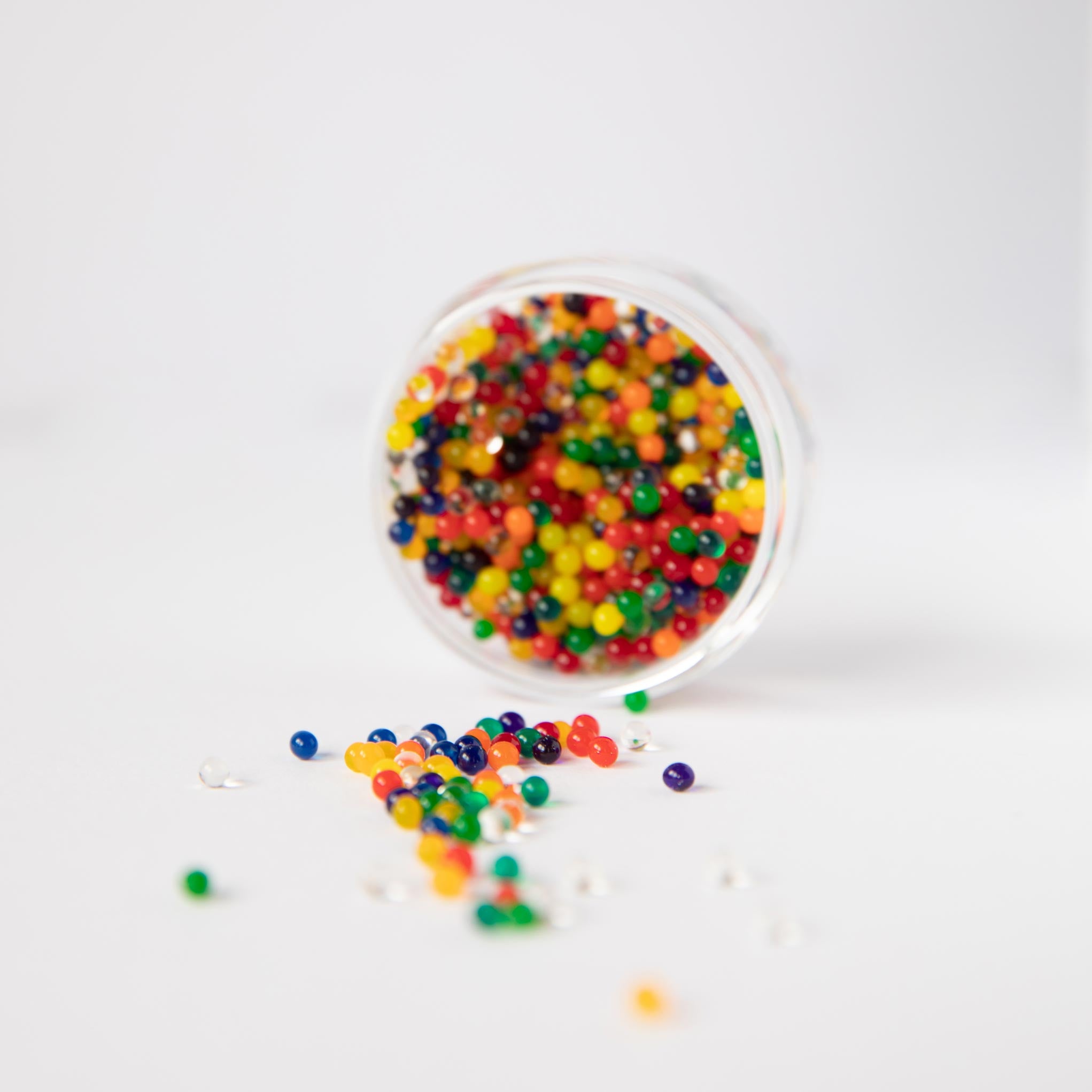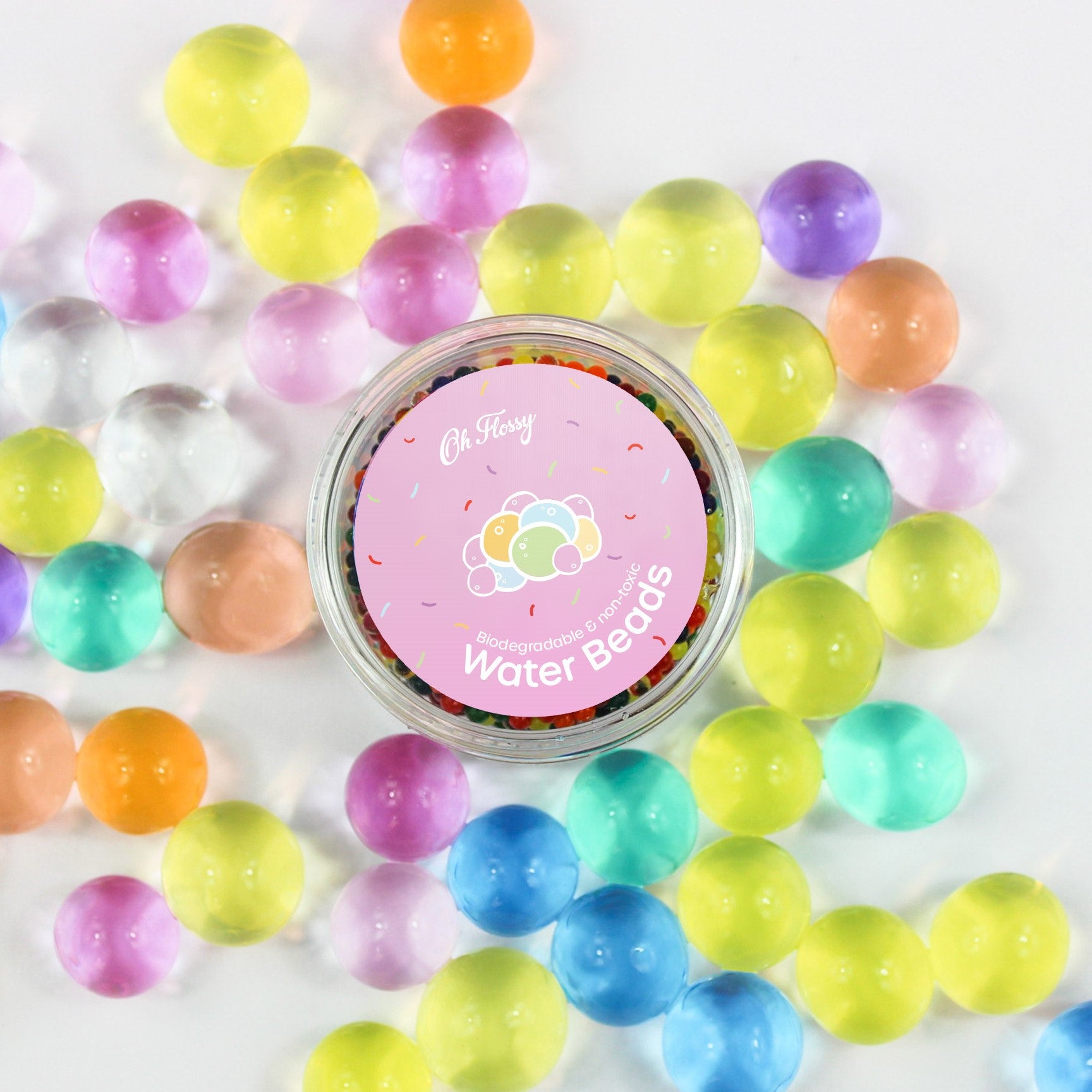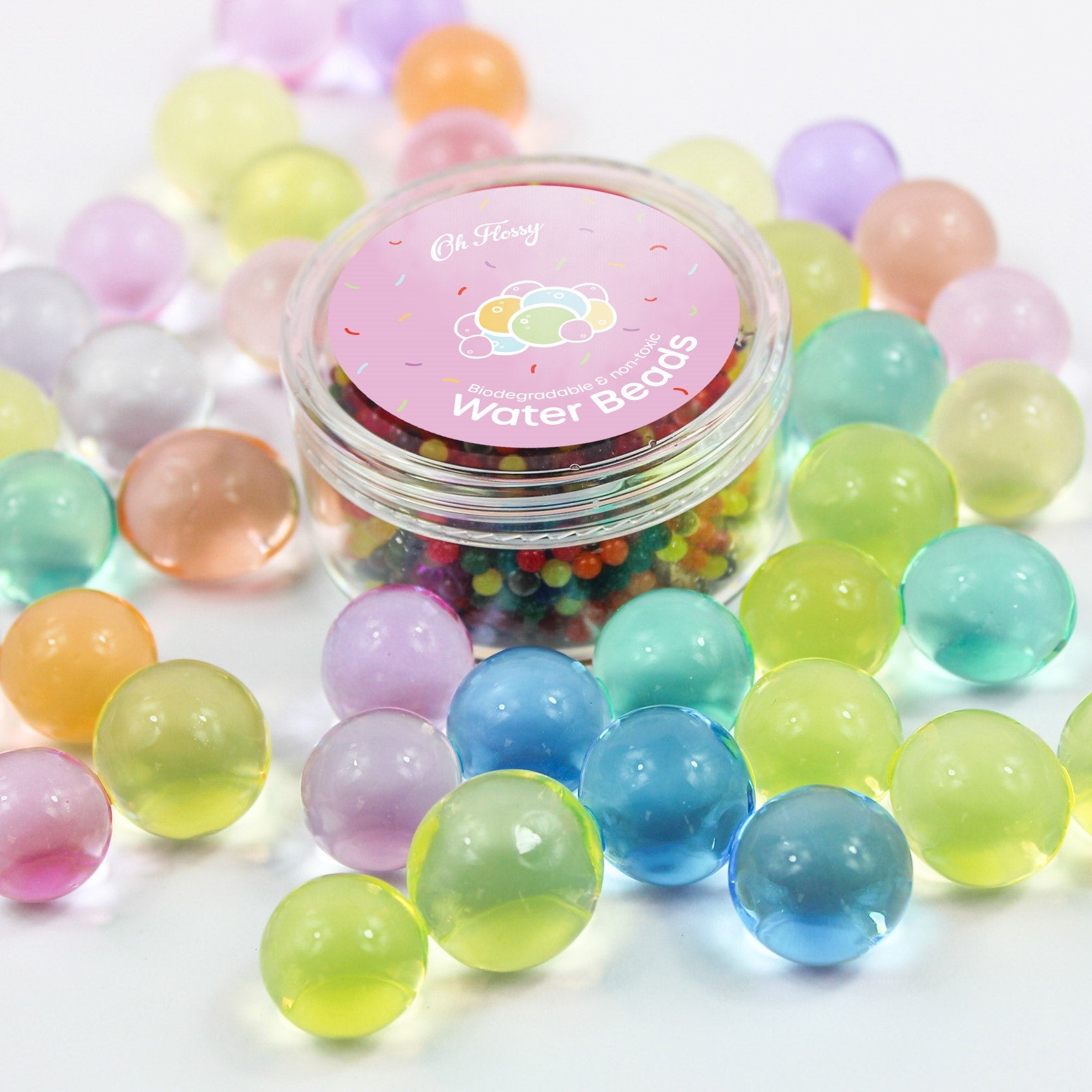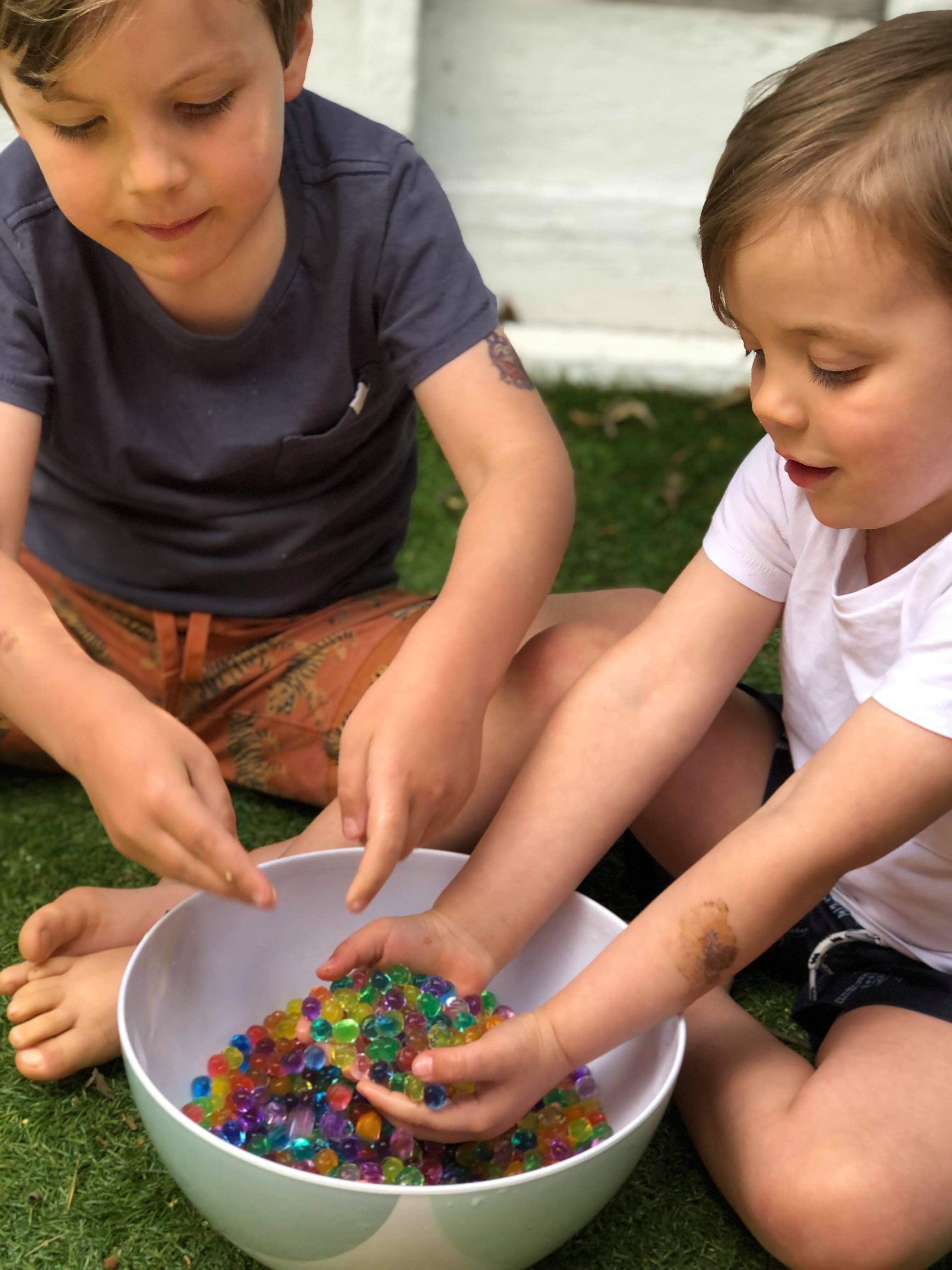 Oh Flossy Rapid Water Beads
Fast expanding Rainbow Rapid Water Beads are amazing as a science experiment or for hours of creativity and sensory play.  Oh Flossy Rapid Water Beads are certified non-toxic and biodegradable and expand when in water.  Children (and adults) love the feel of these balls with their slippery and bouncy nature.

HOW TO USE:
Simply add 8 cups of warm tap water (40 - 60 degrees celsius) and watch your Oh Flossy Rapid Water Beads expand to full size within 90 minutes. One 20g container makes one large bowl of expanded Water Beads.
When you're finished playing, simply place them on an even layer on a baking tray and watch them shrink back over a few days. Alternatively, use them in your garden to aid its hydration.
PLEASE NOTE: Not for human or animal consumption. Keep children away from warm or hot water.
Our accessories are all designed to be great companions to our Makeup Sets, Glitter Set & Face Paint Sets. We are all about the details when designing, & all of our products to work well together so that you can bundle things together to make the perfect gift or just to make playtime more fun!
Ages 3+ Always use adult supervision. May contain small parts. Choking hazard.
Awesome Beads
Joshua absolutely loves the Water Beads! Doesn't take long for them to start growing and he had fun separating them into colours and finding some rare ones.
Thanks for the review Penny and so happy to hear Joshua loves the water beads! They are a lot of fun aren't they! Hope he continues to enjoy them. Vanessa. x
Wonderful colours
Lovely colours and beautiful packaging
Thank you so much for your 5-star review. We hope you enjoy the water beads! Vanessa. x
Oh flossy kids polar make up
Love love love the range! My 3 year old has had hours of entertainment with them since the moment they arrived, easy to clean off the skin too.
Thank you for the lovely review Kate, we really appreciate it. Glad to hear your 3 year of had lots of fun! Vanessa. x
So fun and so many!
Both my son and daughter sat amazed at the transformation of the water beads. The colours are gorgeous and the amount you receive is very generous! We only used half the jar and filled a whole Tupperware container. So much fun that went on and on!
Thank you for taking the time to review Emily, we really appreciate it. So happy to hear how much fun your son and daughter had with the water beads. Hope to see you again! Vanessa. x
Surprise hit...
Kids loved these. Made fidget bags. Surprise hit in our house!
Thank you for the review Cam. Fidget bags are a great idea! Love hearing how creative our little customers use the water beads. Thanks for the ideas! Vanessa. x