As a parent, I understand the importance of creating memorable and fun Kids Party Makeup Ideas for our children's parties. One way to do this is by incorporating kid-friendly makeup into the festivities. Not only does it spark their creativity and imagination, but it also allows them to express themselves in a playful and exciting way. In this article, I will share some easy and exciting kids makeup ideas that will make your little ones' celebrations even more special.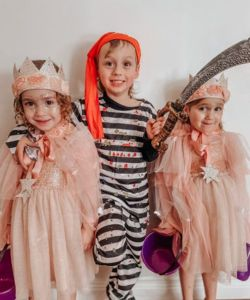 The importance of kid-friendly makeup for parties
When it comes to kids makeup, safety should always be our top priority. Children have delicate skin, and using products that are not specifically formulated for them can cause irritation or allergic reactions. That's why it's crucial to choose makeup that is specifically designed for children. These products are made with non-toxic ingredients and are gentle on their skin. By opting for kid-friendly makeup, we can ensure that our little ones can enjoy the festivities without any worries.
Safety considerations when choosing kids makeup
Before diving into the exciting world of kids makeup, it's important to consider a few safety precautions. Always check the ingredients list of the products you are using to make sure they are free from harmful chemicals. Additionally, conduct a patch test on a small area of your child's skin to ensure they do not have any adverse reactions. It's also a good idea to consult with your child's pediatrician if they have any known allergies or sensitivities. By taking these precautions, you can create a safe and enjoyable makeup experience for your child and their friends.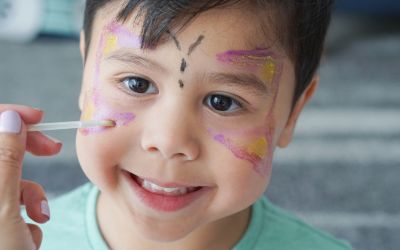 Fun and creative makeup ideas for kids parties
Now that we have the safety aspect covered, let's dive into the fun part – the makeup ideas! There are countless ways to create exciting looks for kids parties, and the possibilities are endless. Whether you're hosting a princess themed party, a superhero extravaganza, or an animal-inspired celebration, there's a makeup look that will perfectly complement the theme. By adding in some natural face paint or biodegradable glitter, you can create a play experience that is second to none!
Creating colorful and playful looks with eyeshadow and blush
Eyeshadow and blush can instantly transform a child's face into a canvas of creativity. Choose a palette of vibrant and playful shades that will bring out their inner artist. For a princess party, opt for soft pinks and purples to create a dreamy and ethereal look. For superhero-themed parties, go for bold and intense colors like blues, reds, and yellows to mimic their favorite heroes' iconic costumes. Animal-inspired parties call for earthy tones and patterns to transform your child into their favorite creature.
Skin tone does not matter here. It's all about allowing children to have fun with all of the wonderful colours kids makeup and face paint can bring.
Adding a touch of sparkle with glitter and shimmer
What's a party without a little sparkle? Glitter and shimmer are the perfect way to add a touch of magic to your child's party makeup. Opt for biodegradable glitter for sustainability and ensure that it's safe for use on the skin. Apply it to the eyelids for a dazzling effect or dust it lightly on the cheeks for a fairy-like glow. Shimmer powders can also be used to highlight specific areas like the cheekbones or the bridge of the nose. Just remember to keep the glitter away from the eye area to avoid any irritation.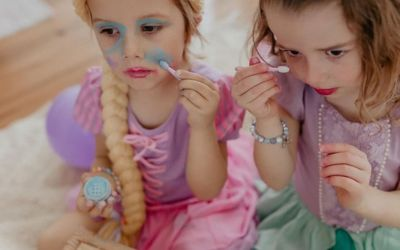 Enhancing lips with child-friendly lipstick and lip gloss
A pop of color on the lips can instantly brighten up your child's face and complete their party look. Look for child-friendly lipsticks and lip glosses that are free from harmful chemicals and are easy to apply. We know at times, lipstick can be seen as promoting kids to grow up too quickly, however we see it as encouraging creativity and role playing in a safe way allowing kids to Be Little, Shine Big.
For princess-themed parties, go for soft pinks or delicate peaches to create a sweet look. Superhero parties call for bold and vibrant shades like reds, blues, or even metallics. Animal-inspired parties allow for playful experimentation with unconventional lip colors like greens or purples.
Let your child choose their favourite shade and watch their confidence soar. At Oh Flossy, we use only natural, quality ingredients in our lipstick and lip gloss. This ensures our little ones have a lot of fun while also protecting their lips with safe kids makeup.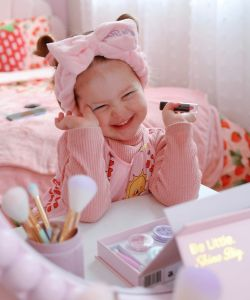 Nail polish ideas for kids parties
No party makeup look is complete without a little attention to the nails. Nail polish is a fun and easy way to add an extra touch of glamour to your child's ensemble. Opt for child-friendly nail polishes that minimise toxic ingredients or are plant based. Allow your child to choose their favorite shades, or create a themed nail art design to match the party's theme. From sparkles and glitters to vibrant colors and patterns, the options are endless. Let their little nails shine and be a reflection of their unique personality.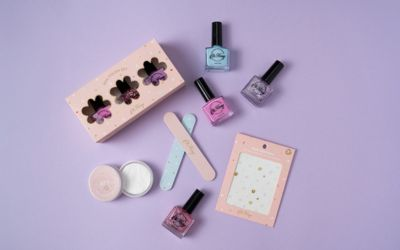 Deliver a perfect pairing by incorporating nail stickers
A perfect partnership which we feel is a real beauty, are themed nail stickers that can compliment the nail polish. With superhero, sweets, flowers and sky themed nail stickers, Oh Flossy has you covered here.
To remove the nail polish, you can use any nail polish remover however for a more gentle option, we have created water based nail polish remover wipes to make cleaning up a breeze while being a safer alternative.
Get the kids to search the internet for inspiration
A great way for parents to get their children involved in the planning is by getting them to check out examples of party makeup and face paint across the internet. This will also help you find the right kids products to use when it comes to selecting the right kids makeup, face paint and glitter for your child's party.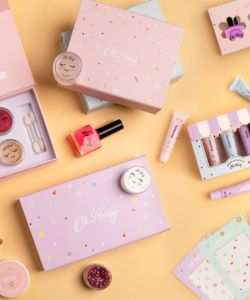 Easy-to-wash-off makeup options for hassle-free removal
After the party is over, it's time to remove the makeup. Opt for makeup products that wash off easily with water, making the cleanup process a breeze. Use a gentle cleanser or simply splash water on the face to remove any traces of makeup. To remove stubborn glitter, use a makeup remover puff or a damp cloth.
Don't worry if there is a bit of mess around the house, simply vacuum any loose powder from the floor or surfaces for easy cleaning. For benchtops or bathroom tiles, simply wipe away with a damp cloth. By choosing makeup that washes off with water, you can ensure a hassle-free removal process and avoid any unnecessary stress.
Tips for a successful kids party makeup session
To make your kids party makeup session a success, here are a few tips to keep in mind:
Plan ahead: Prepare all the necessary makeup products and tools in advance to avoid any last-minute stress.

Practice makes perfect: If you're trying out new makeup looks, it's a good idea to practice beforehand to ensure a smooth application on the day of the party.

Encourage creativity: Let your child's imagination take the lead and allow them to experiment with different looks. Embrace their uniqueness and encourage self-expression.

Take breaks: Kids can get restless during long makeup sessions. Take short breaks in between to keep them engaged and excited.

Not a face paint extraordinaire? Don't worry, easy to use, reusable face paint and makeup stencils are available for easy application to the face, arms or legs.

Capture the memories: Don't forget to take plenty of pictures to preserve the precious memories of your child's party makeup looks.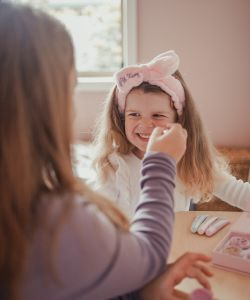 Encouraging creativity and self-expression through kids party makeup ideas
Kids makeup is more than just a fun activity – it's a way for children to explore their creativity and express themselves in a playful and exciting manner. By choosing kid-friendly makeup products and incorporating fun and creative ideas, you can create a memorable and safe experience for your child and their friends.
From princess-themed parties to superhero extravaganzas, let their imaginations run wild and unleash their inner artist. So, the next time you're planning a kids party, don't forget to add a touch of magic with easy and exciting makeup ideas. Let their faces become the canvas for their wildest dreams.
Unleash your child's creativity and make their party extra special with these easy and exciting kids party makeup ideas. Watch their faces light up with joy as they transform into their favorite characters. Let them embrace their inner artist and create memories that will last a lifetime. Get ready to host the most memorable and fun-filled kids party ever!