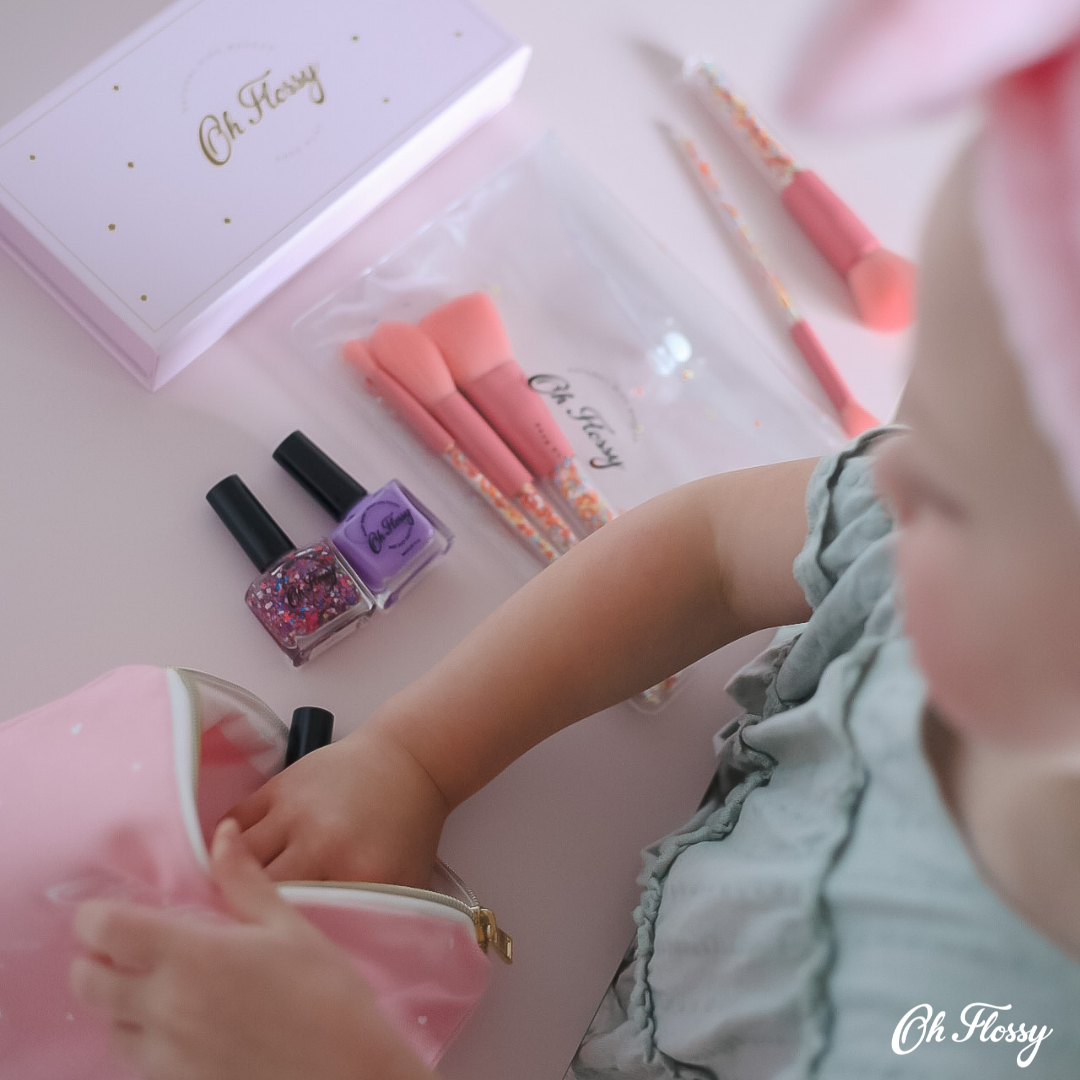 This cute & practical kids cosmetic bag is a fantastic addition for any Oh Flossy fan! It is perfect for keeping your little one's makeup, face paint or glitter contained and also is large enough to fit the Oh Flossy Sprinkle Brushes & Oh Flossy Cosmetic Headbands too.

Material: Durable cotton, canvas with gold nylon zipper. Easy clean internal lining

Size: 23cm x 16cm

Can be used as a kids cosmetic bag, kids toiletry bag or even a pencil case!
Our accessories are all designed to be great companions to our Makeup Sets, Glitter Set & Face Paint Sets. We are all about the details when designing, & all of our products to work well together so that you can bundle things together to make the perfect gift or just to make playtime more fun!
Ages 3+ Always use adult supervision. May contain small parts. Choking hazard.
Lovely
Everything was so lovely my Granddaughter was especially happy with her makeup brushes. Customer service was excellent & so helpful.
Many thanks.
Thank you for the lovely review Janet, we really appreciate the feedback. We hope you grand daughter continues to enjoy her makeup and brushes. Vanessa. x
Bag of fun
I love the cosmetic bag! It looks great but the best thing is it holds my bag of fun and goodies for the children at my Early Learning Centre. Such great quality and holds so much.
I can keep all my face paint and accessories inside and when the children see the bag they get excited because they know what's inside.
Thanks for the review Brooke, we really appreciate it! We're so happy to hear you love the cosmetics bag. Vanessa. x
Cute and great
A cute product for kids with great colours! We love the nail polish and the little gift pouch!
Thanks for the review Magda. So happy to hear you're enjoying the nail polish and cosmetic bag! Vanessa. x
Perfect addition
Such beautiful quality my little girl loves her very own makeup bag. I especially love that it's lined and can be wiped out and that the sprinkle brush set fits inside too!
Thanks Emily for the lovely review. We appreciate you taking the time! So happy to hear your little one loves her makeup bag. Just like mummy now! :) Thanks again. Vanessa. x
Perfect little cosmetic bag
Perfect to keep all her makeup, brushes and nail polish neat, as she's collecting all Oh Flossy products. Very good quality too, if it gets dirty you can wash it and it will look again as good as new.
Thank you for the review Rosa. We're so happy your little one loves the cosmetic bag. It's perfect for all the Oh Flossy goodies isn't it!